Paragon's Quick Search Widget gives users fast access to their most popular search needs. Users can retrieve their last Quick Search, and even create and use Saved Quick Searches.
The widget can be customized using the blue gear icon 
Video: How to use Quick Search
Paragon's Quick Search is located on the Home Page.
Search workflows are easily accessed; users can configure the Quick Search to handle their most popular searches.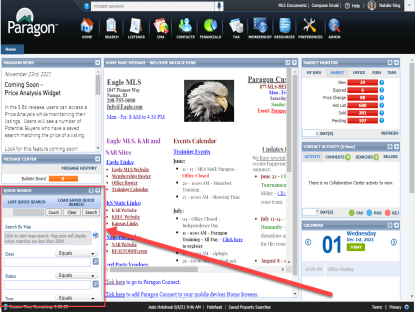 Enter the desired search criteria, then click "Search". The default results spreadsheet will open.

Access the "Last Quick Search" or "Load Saved Quick Search" by clicking on the corresponding text.

A max of 15 search criteria fields are displayed in Quick Search.
Click on the blue gear icon 

 to manage the criteria fields.

Clicking on the blue gear icon will open a window to manage the Quick Search criteria fields.
Users can search for fields in the "Find:" box.
The "Class:" drop down menu allows users to change to the preferred class' criteria fields.
Users can move fields between "Available Fields" and "Selected Fields" to suit their Quick Search needs.
When the Quick Search field preferences are complete, click "Apply/Save" to save the existing search.
Click "Apply/Save As" to save a new Quick Search.
Click "Apply" to update the default Quick Search.
Or, click "Cancel" to return to the original Quick Search on the home page.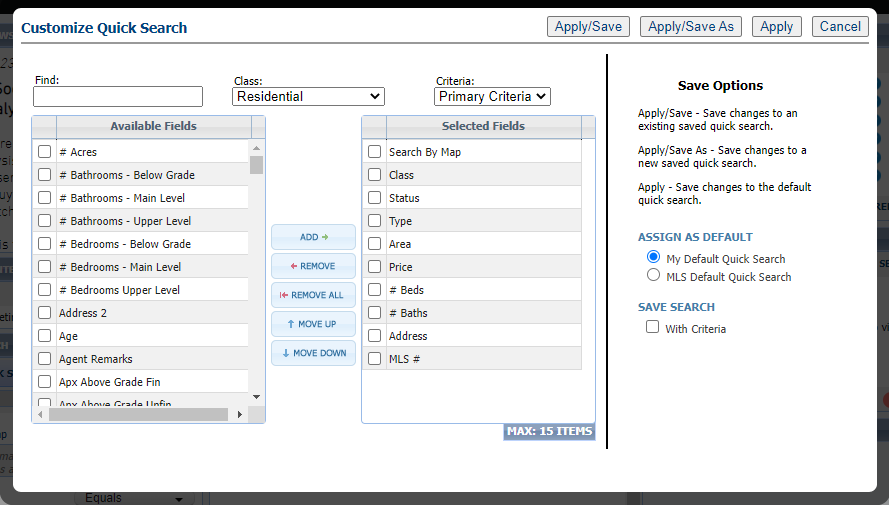 The Quick Search can be minimized by clicking on the arrow in the top right corner of the widget.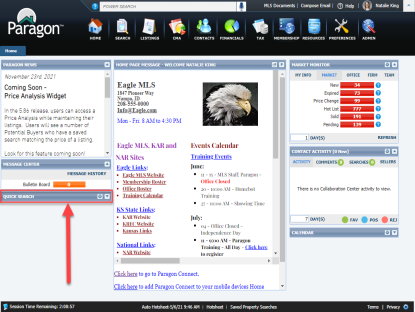 Need more information about the Quick Search? Check out this recorded webinar!